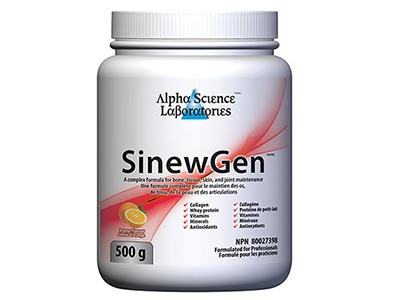 SinewGen™
250 g/bottle – UPC 826913606906
500 g/bottle – UPC 826913606951
NPN 80027398
RECOMMENDED USES:
Vitamin/mineral supplement. A factor in the maintenance of good health. Vitamin C, B2, B5, B6, and Magnesium help in tissue formation. Magnesium helps to maintain proper muscle function. Calcium, Magnesium, and beta-Carotene (Provitamin A) help in the development and maintenance of bones and teeth. Vitamin C, E and Selenium is a source of antioxidant for the maintenance of good health.
MEDICINAL INGREDIENTS PER SCOOP (15 g):
Vitamin B1 (Thiamine mononitrate)….50 mg
Vitamin B2 (Riboflavin)………………..30 mg
Vitamin B3 (Niacinamide)…………..250 mg
Vitamin B5 (D-Pantothenic acid)…138 mg
Vitamin B6 (Pyridoxal 5-phosphate).. 50 mg
Vitamin B9 (Folic acid) (Folate)…..500 mcg
Vitamin B12 (Cyanocobalamin)…..500 mcg
Biotin…………………………………….250 mcg
Choline (Choline bitartrate)……….100 mg
Inositol (Myo-inositol)………………100 mg
beta-Carotene………….3000 mcg (5000 IU)
Vitamin C………………………………….850 mg
Vitamin D3(Cholecalciferol) ……………12.5 mcg (500 IU)
Vitamin E (d-alphaTocopheryl acetate)………..67 mcg (100 IU)
Boron* (Sodium borate)……………345 mcg
Calcium* (Calcium lactate)…………500 mg
Chromium* (Chromium polynicotinate)……….100 mcg
Copper* (Copper gluconate)……1000 mcg
Magnesium* (Magnesium citrate)………………….150 mg
Manganese* (Manganese sulfate)…..2 mg
Molybdenum* (Sodium molybdate)………………..100 mcg
Selenium* (Selenomethionine)…..50 mcg
Silicon* (Sodium metasilicate)……..10 mg
Vanadium* (Vanadyl sulfate)………25 mcg
Zinc* (Zinc citrate)………………………10 mg
*All minerals are in elemental forms
NON-MEDICINAL INGREDIENTS:
DL-alpha-Lipoic acid, Glucosamine hydrochloride, Hydrolyzed collagen, Whey protein, Stevia rebaudiana Leaf, Green Apple Flavour.