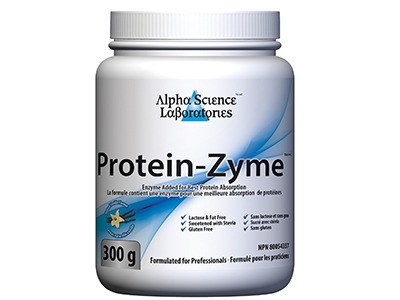 Protein-Zyme™
Enzymes added for Best Protein Absorption
NPN 80054337
INGREDIENT PER 1 SCOOP (25 g):
Milk Protein Isolate 11 g
Whey Protein Isolate 11 g
Protease (Enzyme) 3750 FCC HUT
OTHER INGREDIENTS:
Sunflower Lecithin, Xanthan Gum, Stevia rebaudiana Leaf, Natural Chocolate Flavour/Natural French Vanilla Flavour, Cocoa Powder.
RECOMMENDED DOSE: Adults: Take 1-2 scoops (25-50 g) once or twice per day. Mix Protein-ZymeTM well in 1 cup (250 mL) plus liquid (water, juice, milk etc.) or smoothies.
DURATION OF USE: For prolonged use, consult a health care practitioner.
CAUTIONS: Consult a health care practitioner prior to use if you are pregnant, breastfeeding, have diabetes, liver disorder, kidney disorder, gastrointestinal lesions/ulcers, taking anticoagulant.anti-inflammatory agents or are having surgery. This product may cause mild gastrointestinal disturbances, discontinue use or consult a health
care practitioner if symptoms persist or worsen. Ensure to drink enough fluid before, during and after exercise. Do not use if security seal is broken.
STORAGE: Store away from children and protected from light/moisture.
ALLERGENS: Contains no preservatives, yeast, corn, wheat or gluten. This product has come into contact with milk allergens. Do not use this product if you have an allergy to milk. Hypersensitivity/allergy has been known to occur, in which case discontinue use.