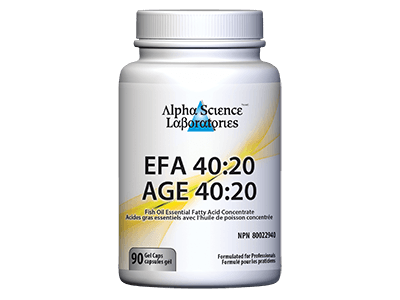 EFA 40:20™ 90 softgels
90 softgels/bottle – UPC 826913603202, NPN 80022940
RECOMMENDED USES:
Helps support cardiovascular and cognitive health (brain function), the development of the brain, eyes and nerves in children up to 12 years of age, and reduce serum triglycerides/triacylglycerols. Source of omega-3 fatty acids (EPA and DHA) for the maintenance of good health.
MEDICINAL INGREDIENTS PER SOFTGEL:
Fish Oil (Anchovy, Mackerel, Sardine)………………………………………………….1000 mg
Vitamin E (d-alpha Tocopherol)……………………………………………..6.84 mg (10.2 IU)
Omega-3 Essential Fatty Acids:
Eicosapentaenoic acid (EPA) – 400 mg
Docosahexaenoic acid (DHA) – 200 mg
NON-MEDICINAL INGREDIENTS:
Gelatin, Glycerin, Purified water.