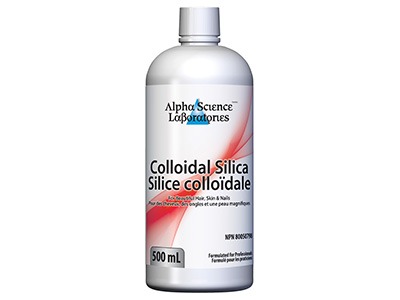 Colloidal Silica
Beautiful Hair, Skin & Nails Formula
500 mL/bottle – UPC 826913607958, NPN 80050798
INGREDIENTS PER 1 TABLESPOON (15 mL):
Silicon (Colloidal silica)……………………………………………………………………….. 196 mg*
*Elemental quantities
NON-MEDICINAL INGREDIENTS:
Purified water, Citric acid, Potassium sorbate, Sodium benzoate, Stevia rebaudiana Leaf, Peppermint Flavour.
RECOMMENDED DOSE FOR ADULTS:
Adults: Take 1 tablespoon (15 mL) once per day. Can be mixed with juice or water.
Shake vigorously before using.
CAUTIONS:
Do not use if you are pregnant or breastfeeding. Do not use if security seal is broken.
STORAGE:
Do not refrigerate. Store away from children. Store protected from light or moisture.
ALLERGENS:
Contains no dairy, yeast, corn, wheat or gluten.
This product is made from all natural ingredients so there may be batch difference in colour and taste.