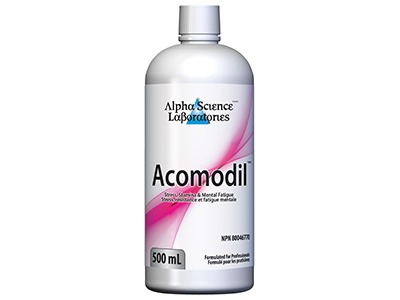 Acomodil™
Stress, Stamina & Mental Fatigue Formula
500 mL/bottle – UPC 826913607804, NPN 80046770
INGREDIENTS 1 TABLESPOON (15 mL):
Panax quinquefolius (North American Ginseng Root)………………………………… 525 mg
Eleutherococcus senticosus (Siberian Ginseng Root)…………………………………… 460 mg
Astragalus membranaceus (Astragalus Root)……………………………………………. 225 mg
Codonopsis pilosula (Bellflower Root)……………………………………………………… 375 mg
Withania somnifera (Ashwagandha Root)……………………………………………….. 150 mg
Other INGREDIENTS:
Purified water, Citric acid, Potassium sorbate, Sodium benzoate, Stevia rebaudiana
Leaf, Apple and Grape Concentrate.
RECOMMENDED DOSE:
Adults: Loading Dose: Take 2 tablespoons (30 mL), once per day for 1 week or one hour before activity.
DURATION OF USE:
Consult a health care practitioner for use beyond 1 month.
CAUTIONS:
Do not use if you are pregnant, breastfeeding or have high blood pressure. Consult a health care practitioner prior to use if you have an auto-immune disorder, acute infection, diabetes, taking blood thinners or digoxin. Consumption with alcohol, other drugs or natural health products with sedative properties is not recommended.
Do not use if security seal is broken.
STORAGE:
Refrigerate after opening. Store away from children.
ALLERGENS:
Contains no dairy, yeast, corn, wheat or gluten.